The Saudi Arabian Al Shiddi Group is exploring the possibility of establishing an upscale tourist resort in Ulcinj, with the aim of transforming Mavrijan into a burgeoning small town replete with an array of tourism and business amenities.
Al Shiddi Group from Saudi Arabia is very interested in realizing an exclusive tourist resort on Cape Mavrijan in Ulcinj. A corresponding agreement was ceremoniously sealed today in Podgorica. The company intends to establish an innovative concept at the said location, which aims to transform Mavrijan into a modern small town with comprehensive tourist and business amenities.
Among the prominent signatories of the Memorandum of Understanding were Prime Minister Dritan Abazović, Sulaiman Al Shiddi, the chairman of the Al Shiddi Group, and Omer Bajraktari, the President of Ulcinj Municipality.
Prime Minister Abazović informed that Al-Shiddi Group already has a notable presence in the Western Balkans and has been involved in significant tourism projects in Bosnia and Herzegovina.
He commented: "It is noticeable that the number of Saudi Arabian visitors has increased significantly in recent years as far as the tourism sector is concerned. The mountainous regions around Sarajevo now enjoy an abundant number of Saudi Arabian tourists. Investors have not only aim to promote mountain tourism, but they also intend to develop other forms of tourism. Montenegro also has great potential in this regard."
The picturesque Mavrijan Hill, stretching between Bar and Ulcinj, is described by Prime Minister Abazović as an extraordinary landmark surrounded on three sides by azure sea.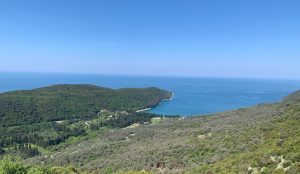 "The Municipality of Ulcinj will enter into negotiations with the Al Shiddi Group in order to formulate common goals. This cooperation could bring Montenegro an exclusive holiday resort with various offers for both tourists and business travelers. Mavrijan is to be developed into a modern small town, comparable to prestigious places like Luštica and others. I am convinced that Al Shiddi Group, supported by their impressive credentials, is able to move forward with this ambitious project", concluded the Prime Minister.
He expressed that this investment would potentially open the door to other companies from Saudi Arabia as well as from other nations.
"With the introduction of world-renowned brands to our country, I'm confident that competition will arise among them who can first explore the prestigious locations that Montenegro has to offer. We look forward to the planned investment in Ulcinj, especially as notable projects are already underway in Boka Kotorska and Budva. The main goal is that the municipalities of Bar and Ulcinj benefit from this opportunity and be enhanced," explained the Prime Minister.
In addition, new brands would create fresh job opportunities for locals, he added.
"This will not only bring a new impetus to the tourism sector, but will also open up a market that has not been present in Montenegro to the desired extent so far. There is considerable development potential here that needs to be further developed. I am convinced that this venture will provide an opportunity for Al Shiddi's diverse partners to come to Montenegro and invest in various industries," Abazović concluded.
Ulcinj Municipality President Omer Bajraktari expressed confidence that the signing of the memorandum heralds a new era for the city after years of stagnant projects such as the Jadran and Ulcinj hotels and the design of Velika plaža.
"This agreement gives us what is arguably an unprecedented perspective for the development of Ulcinj, particularly in the context of Mavrijan Hill. I look forward to working closely with Al Shiddi Group and am confident that we will make one of the largest investments ever in this location possibly even on a scale that could surpass projects such as Luštica Bay, Porotnovi and Porto Montenegro Anyone who steps into this place will see the relevance and potential of an investment and I have full confidence that any investor faced with the given the opportunity to invest here, will implement this in an adequate manner," emphasized Bajraktari.
Al Shiddi Group President Sulaiman Al Shiddi welcomed his presence in Podgorica and stated that his company has been active in the region for a period of 15 years.
"Over these years we have created an established brand and gained valuable experience that we now want to transfer to Montenegro. We have a project in mind to implement in the Mavrijan area. This marks just the beginning, the first step in a promising direction for Arab investors within Montenegro. With numerous tourist flows already in place, we are optimistic that further investments will follow. Our intention is to make the most of any opportunities that arise," concluded Al Shiddi.