THE GATEWAY TO FREEDOM AND NATURE
PLANNED LUXURY ECO-FRIENDLY HOLISTIC HEALTH CARE – RESORT, IN THE MIDDLE OF NATURE PARK, WITH RESTAURANT, HOLISTIC HEALTH CHARE CENTER, FITNESS COURT AND OTHER SERVICE ACTIVITIES, FOR RESIDENTS OF THE TOWNSHIP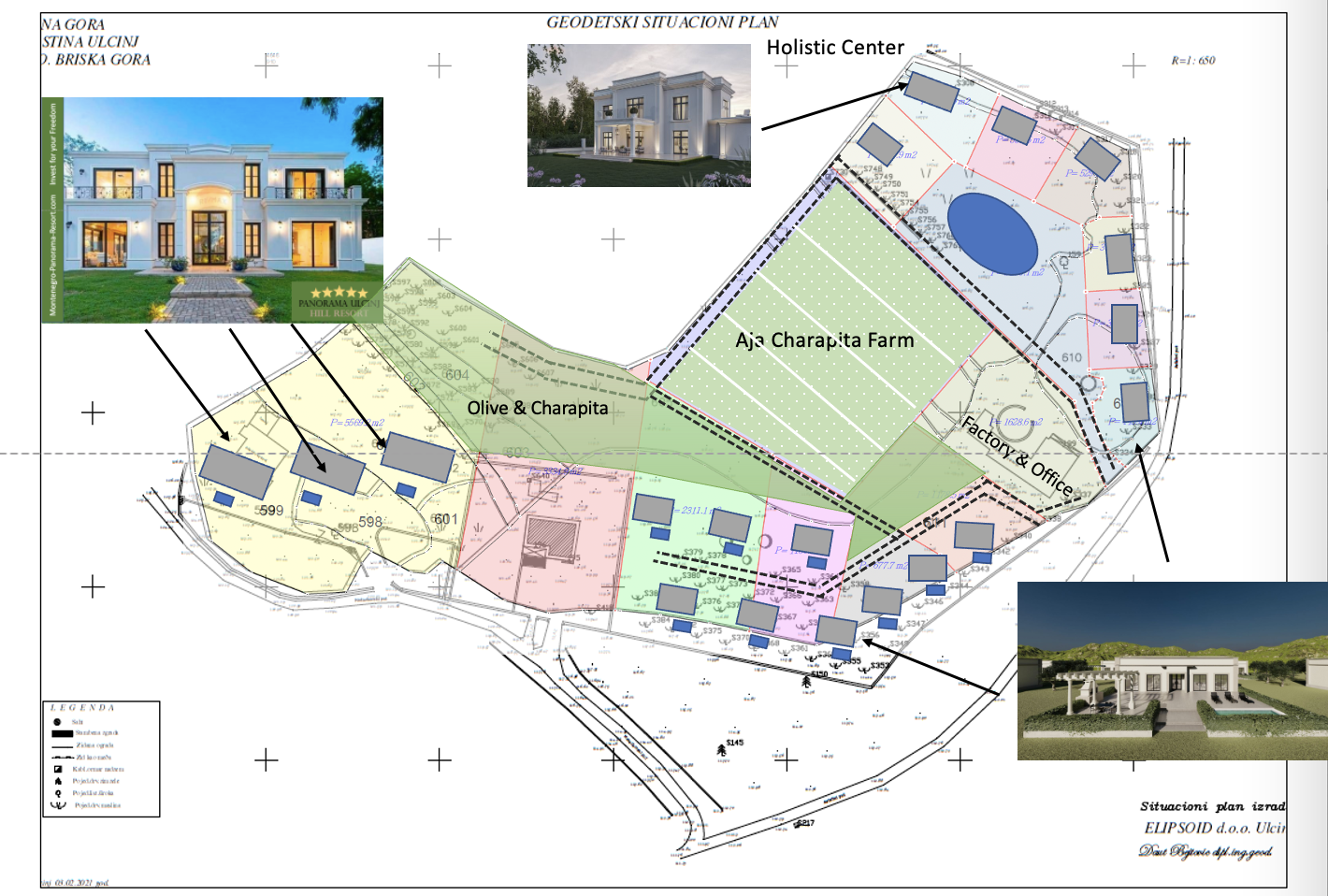 9 TOP LUXURY DIPLOMATEN BUNGALOWS ON PLOT 1+2 (5580 sqm Plus Park)
(each Bungalow has 145 m2 building space)

AND POOL

3 TOP EXCLUSIVE VILLEN WITH EACH 4 APARTMENTS IN A PRESIDENT -RESIDENCY VILLEN COMPLEX ON PLOT 4
(5580 sqm Plus Park)
(each Apartment has 100 m2WFL)AND A POOL

1 HOLISTIC HEALTH CENTER WITH YOGA PLACE AND TRAINING CENTER ON PLOT 6 (400 m2 WFL)

6 TOP EXCLUSIVE BUNGALOWS ON PLOT 6 ON SPECIAL CUSTOMER REQUEST

Ready for occupancy in the absolute highest quality standard!
FITNESS COURTS

27000 M2 OWN PLOTE PLUS 10,000 +ha. NATUR PARK FOR THE RESIDENTS
Almost undeveloped zone in the old forest of more than 100000 hectares
OVERVIEW OF EXPECTED AREAS WITHIN THE PANORAMA HILL RESORT
| PURPOSE | AREA (M2) | % IN THE PROJECT |
| --- | --- | --- |
| AREA UNDER BUILDINGS | 6050,00 | 22,00% |
| ALMOST UNDEVELPED ZONE AND NATURAL PARK | 100,000,000,00 | – |
| CHILI FARM | 5000,00 | 18,50% |
| GREEN AREAS AND FITNESS COURTS | 21,350,00 | 69,50% |
| AREA OF URBAN PLOT | 27000,00 | 100% |
The resort stands in a wonderful place in the middle of a nature reserve with a breathtaking panoramic view, close to the oldest city on the Atria coast. It can be used in various ways, such as a top private club, health center, resort for relaxation, clinic for the mentally ill, spa and recreation area, facility for hunters, or simply as an investment property for sale or rental for the summer months. Since it is completely isolated, in the middle of a nature park of around 10,000 hectares in size, other types of use are certainly conceivable and feasible.
The value of each individual villa and bungalow will probably increase by 15-25% each year, like in the past.
At the latest, however, when Montenegro becomes a full EU member, we calculate with at least another 100% gradient and more.
The individual objects are also suitable for subletting or as value protection for a later sale.
Note: The market price for luxury real estate in Montenegro is between 2500 and 8500 EUR / sqm, depending on the location. Few villas on the market have this size of land plus an additional park within the resort.
All-ROUND FULL SERVICE
We offer an all-round full service. The management company maintains and manages the entire resort, cleans the pools, if necessary also during your absence, the interior. We offer a delivery service, we can also help you rent your bungalow or apartment if you wish. The resort is guarded 24/7 to ensure maximum security and comfort. In the restaurant you only get organic products directly from the neigh boring farmers. The best doctors, nutritionists and other experts, each from different countries, will practice in the Holistic Health Center. Of course, there is a dedicated team that will fulfil your wishes for all other questions as best as possible.