New bungalow of German standard in Briska Gora, Ulcinj Montenegro
from a fixed price of EUR 162,500
145 m2 constructed area
2 Bedrooms
2 bath
711 m2 of land
Inquiries, order viewing at:
WhatsApp: +382-30-681-227
Email: [email protected]
ECOSPHERE DOO
Boulevard Teuta bb
85360 Ulcinj | Montenegro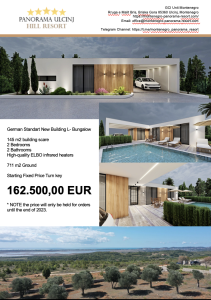 We introduce you to our dreamlike L-bungalow – a stylish home to feel good. With our high quality standard and our expertise, we guarantee you a property that meets the highest demands. We already lay the foundation for your dream property during the earthworks. Our experienced team ensures professional excavation and carefully stores the topsoil on the property.
The solid base plate consists of at least 25 cm thick, waterproof concrete and thus offers a stable base for your new home. The outer walls are made of high-quality Ytong planstein and are provided with a 1 cm thick wall plaster including fabric. This not only gives your bungalow an attractive appearance, but also excellent insulation. With a total thickness of 25 cm, the walls offer a solid and thermally insulating structure. The partitions are also made of Ytong stone and are 11.5 cm thick. This enables a flexible room layout and ensures pleasant acoustics in your new home.
The ceiling is designed as a robust reinforced concrete ceiling with a thickness of 10 cm. This gives you a durable construction that provides excellent soundproofing. The roof is covered with a layer of bitumen sheeting to ensure effective sealing. An 8 cm thick insulation ensures excellent energy efficiency. In addition, a second layer of bitumen sheeting is applied whilst slate sheeting is used as the top layer to give your bungalow an attractive appearance.
High-quality ELBO infrared heaters, which are attached to the ceiling and walls, ensure pleasant warmth in your new home. This modern heating solution ensures efficient and comfortable heat. The hot water is supplied by an electric hot water boiler with a capacity of 80 liters, so that you always have enough hot water available. In the utility room you will find a cold water machine connection that offers you a wide range of options. An outdoor tap on the property also allows you to conveniently use water outdoors. The plumbing is carefully planned and executed, with sewage pipes made of PVC and hot and cold water pipes being laid in high-quality plastic pipes.
The bathrooms and guest toilet, kitchen and hallway are designed with fine stone tiles. You can choose from a diverse range of tiles priced at around €15 per m² to create stylish and easy-care spaces. Plastering work in all rooms ensures an attractive appearance and a pleasant room climate. We use lime-cement plaster, which offers a natural and high-quality surface.
The windows consist of high-quality 6-chamber aluminum profiles with an installation depth of 80 mm. The modern anthracite color gives your bungalow a contemporary and stylish look, while the black seals ensure a harmonious overall impression. The window sills are made of aluminum on the outside to match the color of the window, while high-quality granite or marble ensures a stylish look on the inside. Roller shutters are attached to the floor-to-ceiling windows, which not only ensure a pleasant darkening, but also offer additional protection from prying eyes.
The front door system consists of a security entrance door made of aluminium, which offers you the highest level of security and at the same time has a modern design. Wooden door leaves in white are used for the interior, which enables a timeless and attractive design of the rooms. The electrical installation is carried out carefully and according to modern standards. The switches are installed in pure white to blend in harmoniously with the overall picture. The screed is designed as a floating cement screed with 4 cm thick insulation. This ensures pleasant footfall sound insulation and a solid base for your floor covering.
The painting work includes the pre-treatment and the opaque white coat of paint on the wall and ceiling surfaces. This gives you a bright and friendly living environment. You can design the floor covering according to your own ideas and wishes. Your own contribution is required here in order to introduce your individual style.
A spacious carport measuring 3.5 x 6.75 m including the foundation will be built. So you not only have a protected parking space for your vehicle, but also additional storage space. The design of the garden and the outdoor area is your own responsibility and offers you the opportunity to create your own personal green retreat. Here you can bring your own creativity and preferences.
Look forward to your new L-bungalow, which offers a cozy and stylish home with high-quality materials, an attractive design and modern facilities. As a German developer, we stand for quality and expertise in order to offer you a construction project at the highest level. Contact us now and make your dream of owning your own L-bungalow in Ulcinj come true!